6 tips to fight dull frizzy hair in winter
by Joana Teixeira
As the temperature drops and the wind picks up your hair is at risk of becoming frizzy, brittle and dull. The hair care issues of summer are behind you, and now is the time to put a winter plan in place. If you'd like to know how to get shiny hair in winter, avoiding dryness and frizz, these top tips will certainly help you out.
Condition your hair to stay moist
Your hair's biggest problem in the winter is it drying out and becoming frizzy. After you shower it's good practice to use a leave-in conditioner and go for a deep conditioning treatment once a week to replenish your locks. Focus on the ends, as they are particularly vulnerable to dryness and damage. Leave the conditioner in for a few minutes and then rinse out with cool water.
Savor the shine
As just mentioned, harsh winds and cold weather can really dry your hair out in winter and leave it looking dull. But you can fight back by using a hair mask. You could buy a specialist product or make your own from natural products that include avocado, olive oil and even eggs. If you want to know how to get shiny hair in winter you can find more tips here.
Go easy on the shampoo
We've looked at the importance of regular conditioning, but in contrast to that you need to be wary of the amount you shampoo your hair. If you overdo it you'll run the risk of drying it out further, so switch to a milder product and stick to doing it once every two to three days.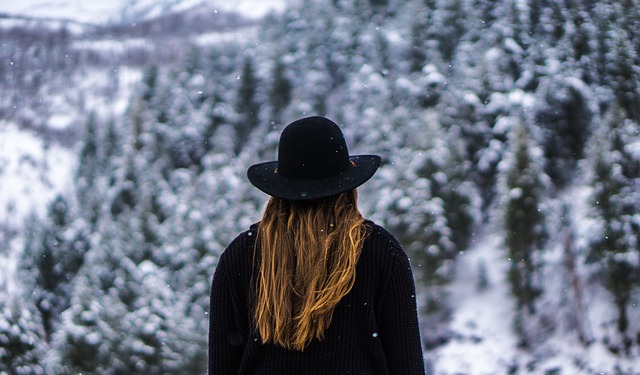 Strategic drying
Blow-drying is another area where you need to find a happy balance. You should never leave your hair damp as this can encourage dandruff, lead to a dry scalp and have the potential for breakage. However, too much heat can also do the same thing, so you need to make sure you're careful. It's a good idea to lower the heat setting and spend a little more time making absolutely sure that your hair is completely dry.
Combat hat hair
A warm hat is vital in winter, to keep your head warm and to look after your locks, but what about hat hair? You can avoid the static and your hair going limp by covering it first in a silk headscarf. Using a heat protection spray is another good idea, as it will help keep things smoother and ensure your hair has a little more bounce too.
The old reliable ponytail
When you haven't got the time or inclination to attack fizziness and dried out hair you can revert to the trusty ponytail. Pulling your hair back takes seconds to do and it'll definitely hide the frizz.
Implement some or all of these hair care tips into your routine and your hair will remain in great condition throughout the winter.