by
Amanda Reid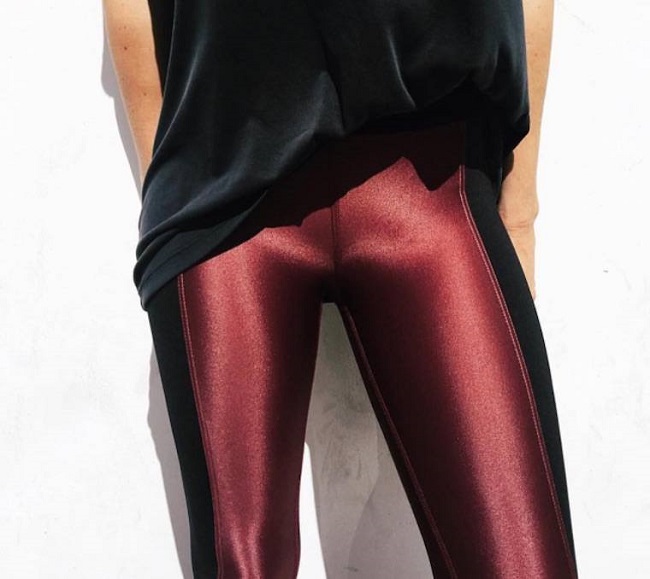 There won't be any other piece of clothing as versatile as a pair of leggings. Having a couple of leggings in your closet is must if you love experimenting with different clothing styles. You can wear leggings with almost anything be it skirts, t-shirts, dresses, shorts, jackets, pullovers or as your workout wear. The form-fitting silhouette of leggings is perfect for various moves required in your workouts. There are plenty of styles and patterns available in leggings to make them work for any occasion. Designers have put their efforts to bring a new line of workout leggings. These leggings are made from special fabrics keeping in mind the comfort and needs of fitness freaks. The use of compression fabrics in workout leggings is what sets them apart from other leggings. Compression fabric helps in giving your body extra support during high-intensity workouts and curb the possibility of sagging. These active leggings are high on both comfort and style to help the wearer look and feel confident during workouts. To get an idea of what features you need to pay attention to while buying workout leggings, take a look at this list of active leggings.
Gloss Workout Legging
This workout legging has a beautiful metallic sheen which goes perfectly with the gym atmosphere. The waistband is sturdy and starts just below the belly button to give support to your waist. The fabric is super resistant with an ability to keep the sweat away and has inbuilt ultraviolet protection which makes this legging good for outdoor exercising. This legging is available in four different hues to suit different complexions.
Power Reversible Tight
This pair of leggings comes with the additional benefit of twin side wearability. The high waist waistband allows the wearer to feel confident and comfortable during the workouts besides trimming the waistline. Those with a lot of flab on the waist and thighs can get a sculpted body by wearing this workout legging. The fabric is soft and has an ability to regulate heat which makes it an excellent choice for summer workouts. These leggings come in great looking faded geometric prints in beautiful hues of greens and blues.
Cut Gym Bio Legging
This bio legging with modish fabric details in different colors is great for the gym workout. The attractive design of these leggings helps you achieve a look that is stylish and at the same time classy. Not just for workouts, you can wear these leggings while jogging or walking. The fabric around the waist helps in even distribution of waist flab to give you a leaner look. This pair is good for rainy season with its quick drying fabric. This legging team perfectly with a tank top, tee or sweatshirts to create a stylish sporty look.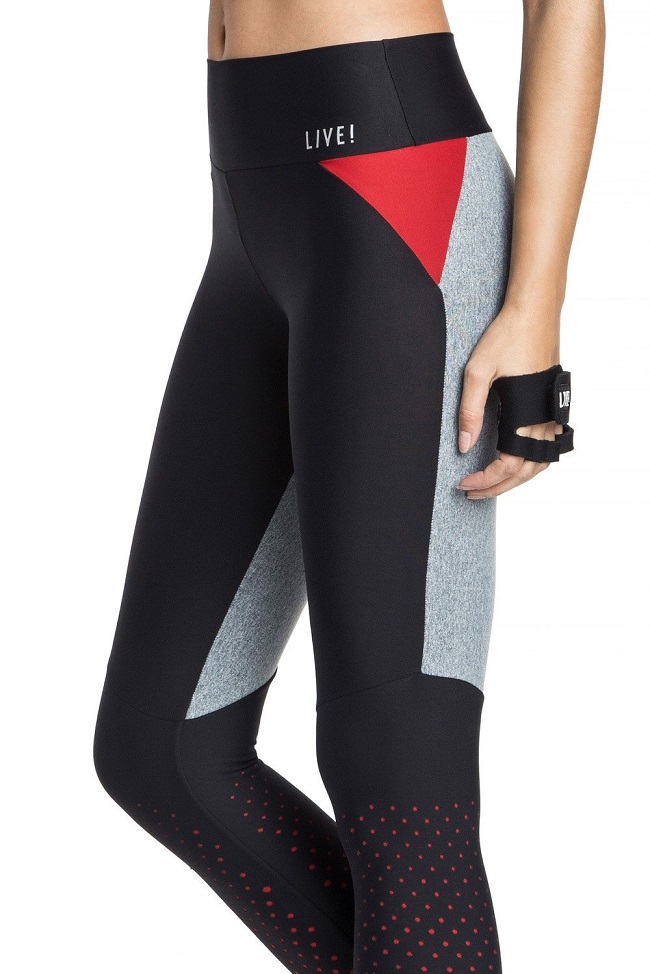 Foliage Glory Tight
Foliage glory tight is good for any kind of workout be it pilates, aerobics or yoga. This legging can be worn in places other than the gym with its distinct pattern which is a mix of subdued floral and geometric motifs with streaks of golden hues to give it an outstanding sheen. The comfortable waistband helps shape up the waist and prevents the legging from sliding down during the workouts as is the case with other leggings. The fabric is breathable with heat regulation ability to keep your skin protected from extra heat that is generated during high-intensity exercises.
Chrome Dream Tight
This pair of legging gives you a brilliant appearance with a unique combination of black and white fabric. The two colors are beautifully fused together to help create an illusion of a leaner looking body. Addition of mesh panels gives the legging a distinct definition and also improves its breathability. Made from a blend of polyamide and spandex, the fabric used in the legging is super flexible and easily adheres to different movements without losing its form. It also has ultraviolet protection to protect your skin from sun damage and keeps the skin cool with its heat regulation ability. Good for leg workouts, pilates, aerobics or weight training sessions.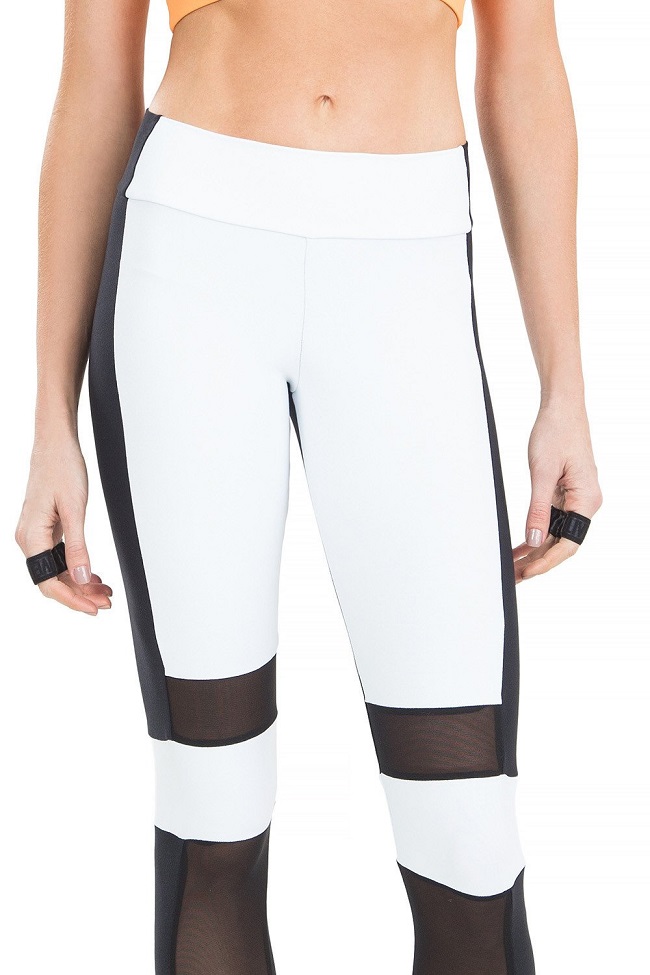 Biker Vibe Legging
This biker vibe legging is a good pair to invest in due to its simple yet chic design. You can wear this legging with any other outfit for biking sessions or for the workouts. The legging has mesh detailing done on the upper and lower leg regions which gives a beautiful sheer effect. The knees have padding done on the insides to prevent injuries during workouts. The fabric is ultra flexible with a bit of sheen which gives it a dazzling effect. Apart from giving an innovative look,  the mesh panels work brilliantly to the wick of sweat and moisture and at the same time improves the breathability to keep your body stay cool in summer season. Wear this legging with a sports bra, tee or a cropped sweatshirt during workouts.
About the Author
Amanda is a hard working Professional with a degree in Business Management. Apart from her day job, She loves working in the Fashion Industry. She has been working with TshirtIdeal.com for some time now. Amanda keeps up with the fashion trends and loves fashion blogging and makes sure that her lifestyle reflects the same.